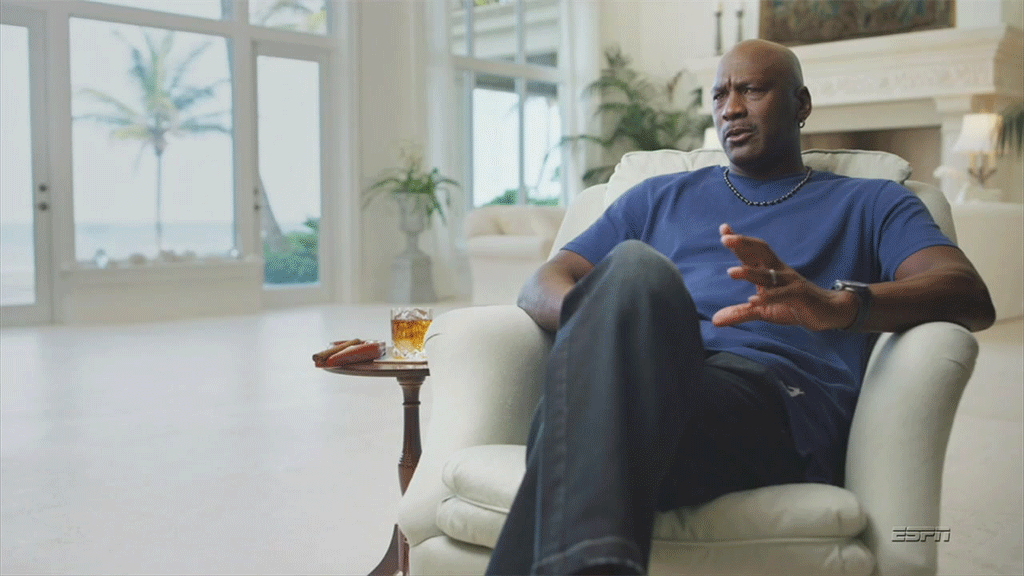 Just under three minutes into The Last Dance, we meet one of the documentary's stars: Michael Jordan's drink tumbler. Sitting next to Jordan during one of the interviews he did for this 10-part documentary, the tumbler appears in multiple shots throughout the first two episodes. Sometimes it's full. Sometimes it's empty. We don't see Jordan drink it, but we can tell he did.
The tumbler is clearly meant to be looked at. It was an intentional decision by Jordan to drink during the interview for this big documentary, and it was a decision by director Jason Hehir and producer Mike Tollin to keep it in. Does the state of Jordan's drink tumbler tell us anything? Let's take an unnecessarily rigorous look.
WHAT JORDAN'S DRINKING
According to a Forbes story from last year, Jordan's drink of choice is tequila—specifically extra añejo, a relatively new category of tequila that Jordan's own tequila brand bottles and sells. Lew Bryson, the author of the recent book Whiskey Master Class, told me this type of tequila fits the profile of the drink shown in last night's documentary.
"Jordan is a sharp marketing/business guy, so I'd have to guess he's drinking his tequila," Bryson writes via email. "And since he can… he's probably drinking the extra añejo."
Jordan is likely drinking tequila that costs about $1,600, but he probably gets a discount. For completists: It also appears Jordan is drinking from a Waterford Crystal glass.
MOSTLY FULL GLASS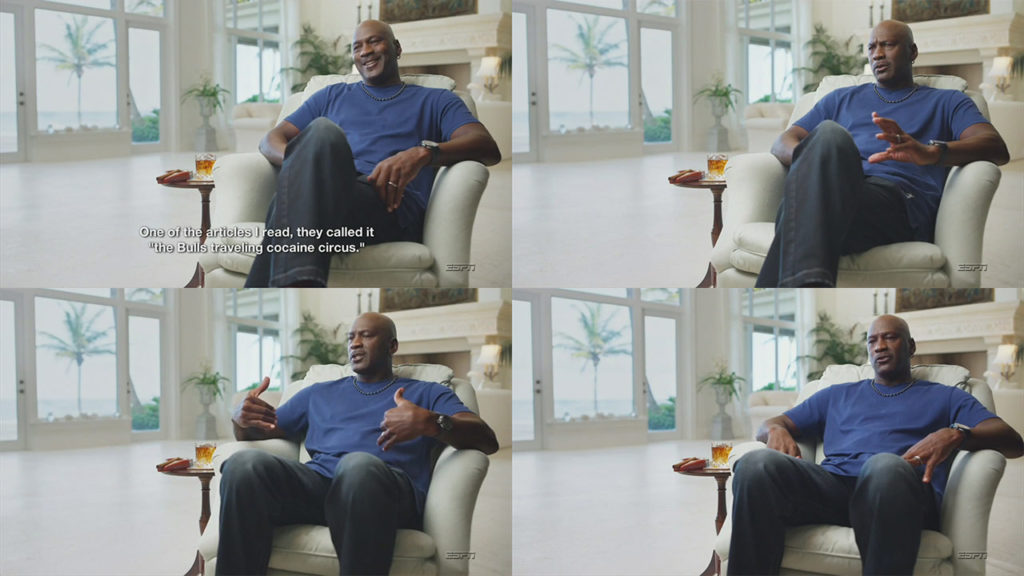 We see Jordan's full tequila glass a few times in the first two episodes of The Last Dance. Jordan has a full or mostly-full glass when he's talking about "the Bulls traveling cocaine circus"—the party atmosphere that surrounded the team when he was a rookie. Aside from a burst of laughter when presented with that descriptor of the team, Jordan doesn't really say much (he denies partying). He does vividly describe what was basically a team orgy: "You got your lines over here, you got your weed smokers over here, you got your women over here." Still, imagine Michael Jordan telling this story plastered.
HALF FULL (OR HALF EMPTY) GLASS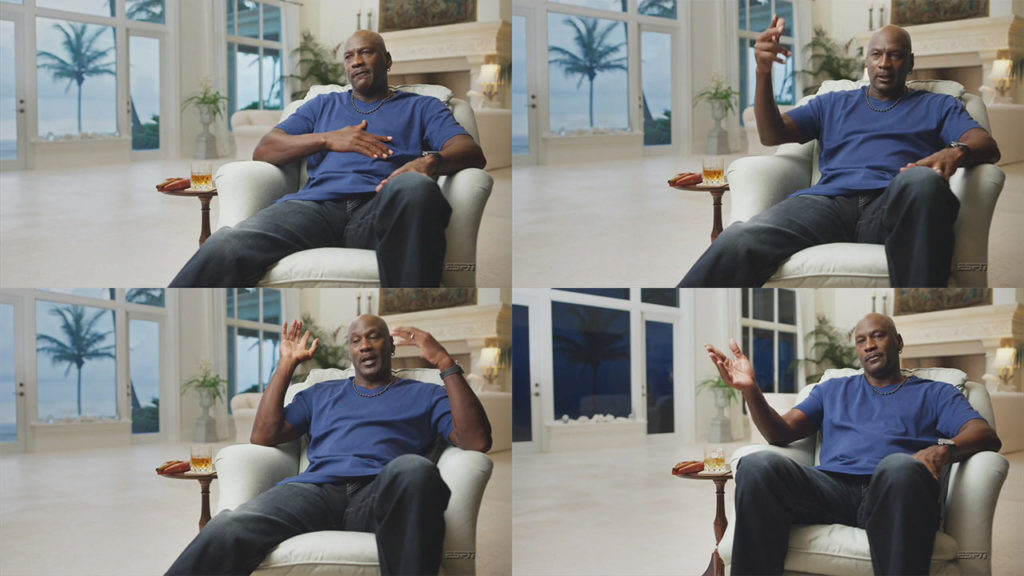 Jordan's tumbler of tequila is mostly half-full throughout the second episode. The glass is half-full when he says Scottie Pippen should've gotten surgery right after the 1997 NBA Finals, instead of waiting until after the summer. That observation only qualifies as slightly spicy.
His glass is also half-full when he talks about the time he broke his foot in his second year. Thanks to half a glass of tequila—and to Jordan being a hyper-competitive maniac—he still appears to be incredibly sad and angry about this nearly 35 years later.
MOSTLY EMPTY GLASS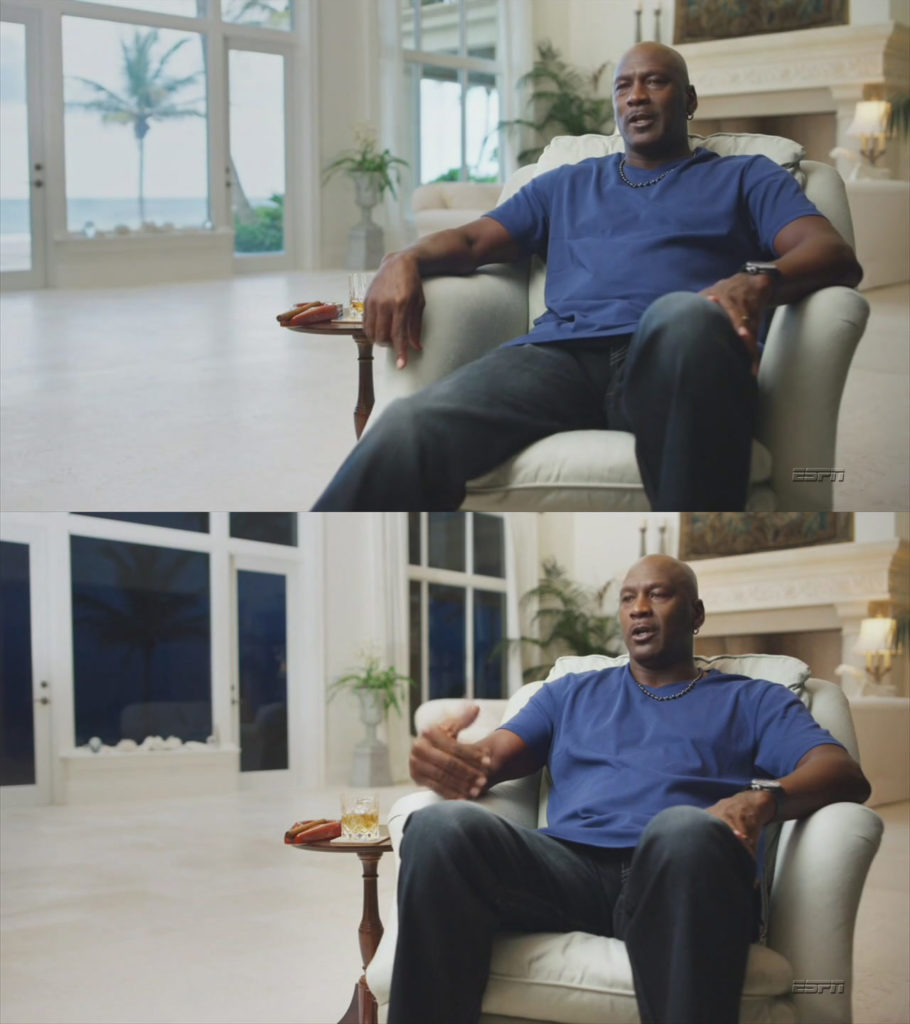 There are only a few shots where Jordan's tequila glass is nearly empty, or so diluted by the melting ice cubes that I'm declaring it empty. (The producers framed this shot near a window, so you can see that Jordan must've had several drinks during this interview. There are empty glasses in both daytime and nighttime.)
Near the end of the second episode, Jordan calls Pippen "selfish" for his actions during a contract dispute. That's much spicier! In the first episode, his glass is also half-full when he says the front office people at the Bulls were nice, but the players ruled the roost.
And, yes, Jordan's glass is nearly empty three minutes into the first episode, when he introduces himself and explains who he is, in case you didn't know.
CONCLUSIONS
So what did we learn? Not much, other than the fact that Jordan loosens up a bit when drinking and seems to be hoping that he can convince ultra-curious viewers of this documentary to buy an absurdly expensive bottle of tequila.